Ocellia loudspeakers symbolise high quality and innovation at the service of music. They represent what we produce best today as far as acoustic loudspeaker design and choice of their components are concerned.
They offer a unique listening experience, reaching summits in terms of both musical quality and exemplary craftsmanship!
Discover the Calliope range
GRANDIS CALLIOPE.30 SIGNATURE
10th Anniversary Signature...

Enter the new Grandis Calliope.30 Signature, the culmination of everything we have learned about loudspeakers technology since we made our first loudspeaker in 1998.
To compare the Signature speakers to all other speakers design, like electrostatic, electrodynamic open baffle or bass reflex, they are the first speakers to get everything perfectly right. It's a two way speaker design with a 12" coaxial driver. It features alnico magnet, a very ligth paper cone, anti-MDI voice coil and wire, 98db efficient and 16 ohms impedance. Coaxial driver design always integrate in a way a multi-way speakers design can't. The cabinet, result of 10 years of research & development into side panel vibration, is made with our proprietary rigid & light panels design . The calculation of a new acoustic load, the best compromise between open baffle and bass reflex, is tuned by ear, like a musical intrument. It's made with real wood and a leather finish front panel. It features two adjustables ports, at the back and on the side, to optimize room placement and electronics matching. Finally, the bi-wire Signature speaker cables and ground cconnectors are included and connected directly from the drivers to the amplifier. Like all the Calliope, the Signature are handmade, only made to order and meticulously constructed in our workshop.
The Ocellia Grandis Calliope.30 Signature statement speaker, is also available in a smaller size named Calliope.30 Signature and other versions featuring 8" full range driver.
CALLIOPE 30 SILVER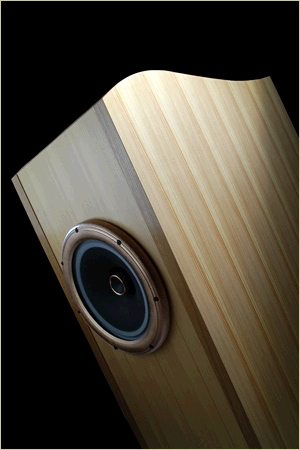 Calliope 30-21-16 SILVER OR COPPER: it makes it possible to discover the exceptional qualities of Ocellia loudspeakers at a smaller size and a more affordable price, while preserving the same quality of design and manufacture Price : From 4150 euro
calliope 16 , 21 silver
HI FI RACE REVIEW CALLIOPE 21 SILVER
6moon review ... CALLIOPE 16
CALLIOPE 16
In general, the Calliope.16 is also a reality check to those dismissive of widebanders who'd swear that a single six-inch driver is by definition far too handicapped to possibly be for real. Ha. Bernard Salabert's smallest cheapest PHY driver is very much for real. It gets the basics righter than any equivalent Lowther or Fostex I've heard. For money which elsewhere buys an MDF box with glossy paint and run-of-the-mill transducers, Ocellia delivers an attractive musical instrument in real wood and a unique modern vintage driver. The Calliope.16 is a real push-from on high down into greater cost-effectiveness-and powerful demonstrator for the single-driver breed's special virtues. It's a speaker one should hear just to know what's possible at this price when one takes a road less traveled and ends up in a compelling and clearly different destination.


This destination will take some getting used to. Not everyone will want to set up camp. But I'd expect that even those who'd pass would, if grudgingly, admit that they didn't think anything like this was possible from a driver this size. It's quite the stumper. I liked the Calliope.16 very much. What's more, I'm now completely convinced that my visit to Panjas wasn't a fluke, i.e. some sort of special blessed event that's impossible to recreate ever again. Au contraire, it's clearly inherent in Samuel Furon's approach. It worked in even a non-standard room like mine where a superior but not expensive transistor amp like my $3.000 transistor FirstWatt F5 unlocked the aroma fully. After I do some closet cleaning this year, I might just have to order a Calliope.21 Silver (that's the 8-inch Alnico version with the brass basket and optional tweeter).


.....In my personal hierarchy of temporary speaker acquaintances of various stripes and persuasions, I'd call the Ocellia Calliope.16 a Terry Cain Abby phenomenon where a driver of acknowledged bandwidth limitations was very cleverly exploited with a very special enclosure to sound a helluva lot bigger than it should. Given that the Abby became a classic, one should predict a similar status for the Calliope.16 - if enough people paid attention.
FULL 6 MOON FULL REVIEW


NEW CALLIOPE 30 SILVER (special design for small rooms 15m)
REVIEWS ...AWARDS

GOLDEN EAR AWARD

TRIODE GUILD AWARD
TRIODE GUILD AWARD
"This $10,000 speaker is a bargain compared to other $10,000 speakers I recently heard, and I believe it is superior to the Tannoy Churchill's which cost about $5K more, ARE available in stores, but do not have alnico magnets."
"This speaker deserves an award for righteousness in a world of pretenders. I wish it were designed and produced in America and not by two French savant, who I am jealous of. "
"...This is an important work of audio art. I wonder of how many of you will have the courage to experience it, and discover what you don't know about your DHT SET amps…"
Dr. Gizmo.
Quaero, art of sound.
We are pleased to present the Quaero valve electronics developed with a great talented electronics engineer who join the Ocellia team. They emerge from the same excellent thinking that created our products. The Quaero electronics, of an exceptional sound quality, represent today the very best available for your musical system.
Valve electronics are all the same ?
To push back the boundaries of what's possible today, the Quaero electronics represents a radical departure from the currently accepted valve electronic design philosophies, in which all areas of design requirements have been thoroughly reinvestigated with a new approach.
The Quaero electronics are the fruit of five years of development, a painstaking process of listening and fine-tuning. The result of this research is a range of ellectronics, unique in its ability to deliver natural and lively reproduction with fantastic levels of realism and sensitivity !
A revolutionary discovery !
Quaero
SE 300B WE
Each Quaero electronic device, the strict conception of which is based on a revolutionary discovery called MDI, contains original circuits, numerous proprietary parts & wires, a chassis structure and custom components, allowing freedom from certain audible phenomena, responsible for significant losses in musicality.
QUAERO 2C/4C OUTPUT TRANSFORMERS
Transformers are all the same ?
The Quaero Signature output transformers are the fruit of four years of development, a painstaking process of listening and fine-tuning. The result of this research is a range of transformers, unique in its ability to maintains the integrity of the musical signal, to deliver a full frequency bandwidth and to reduce the distortion, in order to preserve the signal path.

One of the most important part of the amplifier !
Each Quaero Signature output transformer is handmade, to make sure of accurate interleaving and wire tension. Meticulously constructed in our workshop, using high quality 4 C core and fine materials like, cardboard shell, paper dielectric, anti-MDI impregnation, they contain proprietary multiple section and multiple layer design.

All this combined, brings you an output transformer like no other !
• Cardboard shell and paper dielectric
• Proprietary multiple section and multiple layer design
• 4 C core matched in pair
• Anti-MDI impregnation
QUAERO Stereo step-up MC transformers
The Quaero represents the world's finest step-up transformers for your MC-cartridges. Its design is simple, elegant and like all Ocellia products addresses various technical challenges facing the reproduction of recorded music. In this sense it perfectly complements our other products. Thus, the challenge was to create a step-up transformers, which maintains the integrity of the musical signal as well as providing convenience.

At the heart of the Quaero step-up transformers are a very high performance transformers made with, mumetal laminated core for minimal harmonic distortion and exceptional bandwidth, separate electrostatic screens for rejection of hum and noise in the cable connecting between the cartridge and transformer. Multiple interleaved windings ensuring exceptionally good bandwidth. The high bandwidth and very low phase shift ensures excellent transient response. The Quaero benefits from Ocellia's breakthrough research regarding the use of anti-MDI components and impregnation. As expected only the highest quality parts are used throughout. The wood panel and white finished perfectly match our other products. Sonically, aesthetically the Quaero is true high-end. All this combined with the extraordinary build and finish, brings you a step-up transformers like no other !
All Quaero electronics are handmade and meticulously constructed in our workshop, made only to order and carry a full five year parts & labour guarantee.
FOR MORE INFO :
FACTORY TOUR by 6 MOON
http://www.6moons.com/audioreviews/ocellia/ocellia.html
FACTORY PHOTO GALLERY
Ocellia factory ..one Calliope 30 ready to go ...
Pascal from ocellia at work ...cabinets of course made by hand but most important with love !
OCELLIA DEMO ROOM
OCELLIA 30 SILVER CLOSEUP
PHOTO GALLERY ...PHY FACTORY
PHOTO :Bernard salabert of PHY-PY
In the mid 90s, Salabert formed PHY-HP. That's pronounced "fee", with HP short-hand for haute parleur or loudspeakers. Today, a meager four small commercial companies use his drivers in their product......
PHY 30 SILVER COAXIAL
..."About good drive units in general, it's really very simple. Physics tell us that we must have very light moving mass since mass operates as the square of the inertial position (in fact square + 1) so you can never compensate by magnetic field strength or amplifier power. This becomes even more important when you listen to music. Music, on average, is a mix of 30% sinusoid and 70% very steep short signals (impulses, transients and such). If a sinusoidal wave is easily reproduced, transient spikes are far more difficult to render properly. For that the mobile equipment (cone + spider + leads + voice coil) should have an infinite slew rate i.e. zero mass. That's impossible of course but you must come as close as possible to 0. You need a very light cone that is rigid enough and features progressive fracturization in an hyperbolic-exponential profile. Only paper with long and short fibers can accomplish that, plush a small-diameter voice coil where one layer is inside and one outside of the former to transmit the movements of the coil with the fewest possible losses (I use impregnated vellum). It is simply in respect to basic PHYsical laws that I made these choices, not to return to the roots per se. But surely it is not a random coincidence that people from the 30s to 70s made drivers like this. They were not stupid as it seems a lot of people today like to believe. These physical laws haven't changed. Obeying them once again not only makes for better drive units, it is also a very nice way to keep alive the knowledge about these technical matters....."

But there's more to this story. Dr. Pierre Johannet's research on MDI or Micro Discharge Interface distortion conducted at the French National Electricity institute quite independent from audio applications is, according to Salabert, "the only meaningful new discovery relevant to audio over the last 40 years". Simplified, MDI deals with extremely steep high amplitude ultrasonic spikes which, in audio, become modified to resemble the sine wave component of the signal sufficiently to cause audible distortion by intermodulation. Additionally, MDI creates positive Langevin ions which change the air to less effectively support sound propagation. "Whether they knew why or not, the old Japanese who had water fountains in their listening rooms neutralized certain MDI side effects instinctively." Today, a negative ion generator could do the same of course but it won't eliminate the causes, just minimize certain symptoms. To attack the causes requires, according to Bernard and Physics, a stubborn refusal to employ any synthetic materials. "They are also bad for your health."


PHY SILVER & COPPER FOILS
"To convey the tiniest of signal nuances, the voice coil windings must be supremely accurate. When the present owners of Supravox stumbled over a forgotten pair of original drivers in some dusty corner of their plant, they compared them to current production. Next thing I know, I get a call. Would I wind their voice coils for them? I'd do them in copper for them but not silver. Silver remains exclusive to PHY and I'm the only one in the world doing it."


Nothing like turning down a paying gig if it involves having to compete with Chinese labor rates? Quality costs money and quality backed by exclusive know-how even more. PHY drivers aren't cheap. But then, you only need one per side
MOTOR ASSEMBLY ...alnico 5 core to extreme right
"The stereo illusion relies on extreme accuracy. We match our drivers to within 1Hz of resonant frequency, 0.1g of moving mass as well as 0.1 ohm of DC resistance. Call me with a serial number and I can read you back the original measurements of that driver. It takes more time but is important to doing things the proper way. That's also why we give a life-time warranty to the first owner. Did I mention that we perform very serious burn-in of all units prior to packing?"
There's junk food, instant gratification, the wholesale eradication of species. In the commercial sector, conglomerates displace the single proprietor outfits. It's all in the name of progress. Once our outer environment is as toxic as our own bodies are becoming, with cancers and heart failures on the rise, our plant and animal kingdoms depleted of variety... then we'll perhaps begin to appreciate what we sold out for. In the meantime, audio has its own parallels. How we treat our resources determines our future. "There was a reason Western Electric enjoyed the renown and success they did in their heyday. They had 1200 of the brightest brains working for them."


History has much to teach us. New isn't always better. PHY-HP reminds us of such matters and offers alternatives as long as there's enough people caring enough to support this tiny outfit and its colorful crusty core character called Bernard Salabert.

READ MORE :http://www.6moons.com/industryfeatures/phy/phy.html