Audio
Aero Design debuts the new

"La Fontaine"

at
High Fidelity for the 21st Century
''La Fontaine'' forms the hub of a high-performance audio system.
It combines a preamplifier, a DAC (digital-to-analog converter) in a single, slim case, cuttingdown the clutter while improving the convenience & sound quality. You only need an amplifier to drive the loudspeakers with Audioaeros' music controllers.
The vacuum tube output stage delivers a rich, musically satisfying experience,while throwing a palpable, three dimensional soundstage.
La Fontaine's preamplifier section features an analogue volume & balance controls and is 40 times quieter than its predecessor - the Prestige.
Extraordinary design
S.T.A.R.S - digital signal processing is handled at 32 bit 384 kHz, combinedwith an ultra low jitter clock design that delivers remarkable resolution. LaFontaine incorporates the Esoteric UMK-5 high precision aluminum turntableand drive mechanism, equipped with an aluminum tray to extract the maximumof information from both CD & SACD discs. Complete versatility with both digital and analog signals (inputs & outputs) as well as an asynchronous 24/192
USB input for easy connection to music servers.
price :call
Passion for music is simply the reason why Audio Aero exists. Since 1997, we have been developing and manufacturing some of the best audiophile CD players in the world, without compromise.
Our philosophy is to reproduce the most natural and realistic sound, bringing the emotion out of the music. To do so, Audio Aero has developed a unique concept of Hybrid circuitry featuring the most accurate digital treatment using an exclusive 32 bit re-sampling technology and subminiature tube output stage. This exclusive process represents the missing link between the analogue and digital worlds. The advantages are obvious once experienced.
For the first time in our history, Audio Aero Design has decided to create its top of the line CD/SACD Player : « La Source ». This creation is our own interpretation of the ultimate Source, using not only the latest technology available in the digital domain, but also the synthesis of all our know-how accumulated over 10 years of experience, testing and listening.
We hope you will enjoy and feel the same deep emotion we experienced when we finalized the design of this new player.
Finishes :
Brushed silver
Diamond black
Learn more
Transport Mechanism
Rigorous testing and previous experience is what determined our selection of the new state of the Art Esoteric VRDS-NEO / VMK 5 transport mechanism. This new transport is optimized for high speed rotational requirements of both SACD and CD. La Source incorporates this newly developed, high precision aluminium turntable and new drive mechanism, equipped with a unique anti-resonance polycarbonate disc clamp. The result is a flawless extraction of information from the source media.
Ultra high rigid construction
Extremely rigid chassis construction isolates the drive from internal and external vibration. The main chassis consists of a 10mm - thick/30 lbs steel bottom frame that provides a rigid, stable base for the player, improving the reading accuracy. Thick anodised aluminium is used on the top and front panel, manufactured in a 50 mm aluminium ingot. Thanks to this complete inert housing, small vibrations that could affect the lens or the clock precision are totally isolated. The chassis is supported by 3 high performance feet that allow the unit to be perfectly isolated from its support stand.
Power supply
The new hybrid power supply has been developed to provide extremely stable power with high linearity to each module of the player. Each module receives its own regulator with specific tension for the application. Both analogue and digital stages have their own dedicated power supplies, this eliminates all residual noise and interference between the digital and analogical domain. We also implemented the latest generation of Mos-Fet integrated circuitry to lower the noise in the signal path.
Digital and analogue signal processing
In order to extract the data with the best performance possible, we have optimized La Source to a new level, previously not attainable until now
ASYNCHRONOUS USB TECHNOLOGY

The majority of USB DAC a vailable on the market uses Adaptive Mode USB Audio. This means the computer controls the audio transfer rate, and the USB device has to follow along updating the Master Clock (MCLK) every one millisecond. The USB bus runs at 12MHz, which is unrelated to the audio sample rate of any digital audio format (i.e. 44.1K requires a MCLK = 11.2896MHz). Therefore Adaptive Mode USB DACs must derive the critical master audio clock by use of a complex Frequency Synthesizer. Since the computer is handling many tasks at once, the timing of the USB audio transfers has variations. This leads to jitter in the derived clock, which means you are not getting the maximum sonic potential available from computer-based audio.
With USB came a mode that is supported under all operating systems called Asynchronous USB. Unlike other USB DACS (Adaptive) the DAC actually controls the flow of data and operates all the internal I2S protocol and DAC clock using a very low jitter Master Clock. No longer is it required to fix the jitter as there was very little from the start. Adaptive mode USB on the other hand is required to change the clock every 1ms which in it self adds jitter to the system. The Master Clock in Adaptive systems that generates all the I2S signals is derived from a programmable high jitter clock. All of these types of products usually use some sort of method to Fix Jitter, otherwise it would be too high to tolerate.
Instead, an ultra-low-jitter audio master clock located in the DAC controls the audio transfer rate from the computer. Jitter is reduced by a factor of greater than 100 times! What's more, this is accomplished using the standard USB drivers (Windows or Mac) for easy plug-and-play installation. Now the convenience of computer-based audio is combined with the lowest possible jitter. This technology delivers the highest level of sonic performance and allows you to consider digital media storage as an entire part of your audio system.
finally.......
We designed a top quality board with 24K gold platted contacts and 70 ppm copper circuit that allows for a perfect flow of data.
Exclusive Audio Aero digital processing
S.T.A.R.S Evolution module
Audio Aero teamed up with Anagram Technologies to develop the ultimate digital treatment possible: Based on a DSP 32 bits/384 kHz with 2 channel Asynchronous Sample rate converter, the digital output is driving 2 DAC's in dual mono mode.
Dedicated ultra-low jitter Master clock
We combined our exclusive S.T.A.R.S Evolution process with a dedicated ultra-low jitter Master clock that incorporates a high grade natural quartz crystal. This resulted in a new level of noise reduction and digital artifact reduction (including Jitter) with less than 1ps of RMS Jitter. Through this process we were able to facilitate a truly accurate digital audio signal that creates unequalled spaciousness and richly detailed sound.
Dual mono dac + tubes outputs
After our exclusive S.T.A.R.S Evolution treatment to the digital signal, we chose to re-design our analogue output stage. We selected the sub-miniature dual triode 6021W from Jan. Philips directly soldered on the PCB board for perfect contact. We also chose to cryogenically treat the valves and this resulted in extended tube life and improved sonics.
Connexions
Fixed output or variable output with volume control.
Fixed output
3 levels available: 2, 3, 4V
Variable output
The volume is controlled in the analogue domain as this process is the best way to avoid any loss of resolution. This is achieved by a high quality "ladder" attenuator. The preamp output, with a maximum 7V output, allows driving virtually any amplifier offered on the market today.
Dedicated USB input
Allows plugging any digital source directly through the USB port.
5 independent digital inputs
for a totally versatile player.
Preliminary technical specifications
Analogue outputs
single-ended RCA and balanced XLR
Analogue inputs
single-ended RCA and balanced XLR
Digital output
BNC
Digital inputs
BNC, RCA,TOSLINK, AT&T, USB
Frequency range
3Hz - 48kHz (-1dB) with SACD or 24/96kHz input
5Hz - 21kHz (-1 dB) with CD or 16/44.1kHz input
Output voltage
2, 3 or 4 V RMS in fixed output mode
Up to 7 V RMS in variable output mode
Output impedance
100 Ohms
Signal to Noise ratio
129 dB
Total Harmonic distortion
< 0.1 %
Read software
CD, CD-R, CD-RW, SACD
Power supply
100 - 240 VAC, 50/60 Hz
Weight
50 lbs.
Dimensions
13.32 × 17.52 × 5.51 inches
REVIEWS
CAPITOLE REFERENCE
24/192Khz 32Bit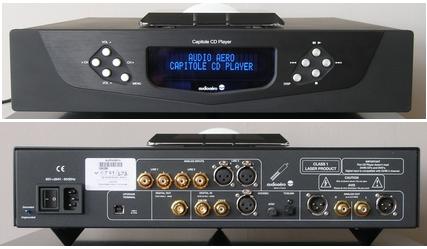 Overall Rating

5 of 5
Value Rating

5 of 5
Review : http://www.audioreview.com/cat/digital-sources/cd-players/audio-aero/capitole/PRD_124942_1586crx.aspx
CD CAPITOLE 24/192 OLD & NEW MODEL
CUSTOMERS COMMENTS ...
"Audio Aero Capitole Mk II is the only CD player I've heard which can be compared to the best analog front ends. It's the first time since I sold turntable some 15years ago that I listen to music with long forgotten emotional involvement. Amazing achivement! "
"This cd player is best what i have ever heard.I have own many top players Audio Research, Sphinx,Wadia,Sonic Frontiers, Krell,Audionet, Mc Cormack, California Audio Labs etc, but Audio Aero is very different it is more like very good vinyl sound, very neutral, airy, dynamic and deep soundstage, many top cd player are dry and sterile but not Audio Aero.I want best with my Acapella Campanile speakers,Audionet max monoamp,Audio Physic minos sub and Transparent Ultra cables. It is cheap because i dont need preamp, it work fine straight to my amp.I can''''t anymore listen another cd player so good is Audio Aero."
"After living with a Naim CDS2 for about 2 years I thought it was time for a radical change. And what a change. The Capitol came in to my system and really changed everything. I now had soundstaging and heard things in the music that I had never heard before. It has a very warm but very analytical sound and also very very musical. "
"CD player does not get better with on-board Anagram chip, which really upconverts signal to 24bits/192khz. Amazing sound on ANY kind of music. "
"This is absolutely one of the best CD-players available! As the other enthusiasts and audiophiles have said the Capitole II has a huge soundstage, a top level accurate but in same time ear satisfying sound. In my opinion it is natural said in one word! The preamp of the player works perfectly. One needs not a seperate preamp if only Capitole is used as a source. I have connected it directly to the Gamut D-200 mkIII and the result is just perfect(interconnect cables are Siltrech Forbes Lakes)! The use of the player needs some extra work but the loading system and remote control is just fine for me."
"I compared it with some of the best equip. available,such as : Einstein tube Cd player,electrocompaniet stereoplay specila edition,Shanling 200 Cd player,Mark-Levinson and Burmester but this one is clearly superior in my opinion."
"I've been primarily a vinyl listener but wanted to take a leap into the world of CD's, until I gave them a critical listen. What happened to the soundstage where'e the realism, therein was my delima. I listened to all the best reviewed players Cary, Meridian, BAT, Naim, Wadia, Levinson all the same. I even tried better DAC's, the MSB Platinum, dCS Elgar Plus /Purcell Combo and I still felt that the vinyl was clearly better. Just as I was about to give up I tried a new audio store near me United Home Audio, they happened to have the Audio Aero Capitole for demo and what a surprise it was! First, Greg and Mike at United Home Audio are clearly the most knowledgable audio professionals I have ever encountered, plus they let me come back for extended listens with no pressure. When I first listened to the Capitole I was not familiar with the recording Greg played, some interesting world music with a huge sound stage. At first I thought it was some demo disc trick because it sounded as big as my vinyl recordings. So I tried something I was familiar with and the sound stage was there, tall, wide, dynamic, and realistic. Well it took me a little time to get the full impression but my search was over. The great thing is I don't have to use my preamp either if I don't want to because the Capitole has a built in remote volume control, which is a more direct and cleaner solution. The detail and clarity is amazing from a digital source, but the real bonus is the analog realism from this unit. The soundstage is the best I've heard and I find myself not even noticing it is a "digital" source component at all. I've had my Capitole for 6 months now and I've about put my turntable out to pasture. I guess because there is much more on CD than vinyl, I find myself listening more these days. If you want the best, you have to spend the money and this unit isn't cheap, but I havent found any great audio component that was. I am giving it a 5 of 5 because it's the best at this time. I am also giving a 5 for value because I haven't heard a cheaper unit that sounded better. "
" This CD player is a true audio masterpiece.

It brings to life ANY cd that is placed in it, like no other digital (or otherwise) pc. of gear I've ever heard.

Indeed, it's THE ONLY digital set-up I've heard that can finally match a great analog/vinyl front end. It has that elusive "continuesness" of an Analog Master tape. Those of you who own a top notch analog playback set up will know EXACTLY what I'm referring to.

It achieves this remarkable virtual-reality trick, not just by extracting every last ounce of detail (which it of course does), but by blending to complete accuracy, ALL of the dynamic shadings and graduations that again, are only heard live or on a studio master tape.

The high frequencies are especially well reproduced, to a degree that I never thought I would hear through the "conventional" Redbook processed CD.

While it does not have HDCD, it still manages it's remarkable sonic sleight-of-hand with EVERY CD played, regardless of the recoding/processing technique that was used. In fact, it actually brings greater improvement to CD's which I once thought, were/are poorly mastered. This is a God-send for those of us not wishing to replace our vast, already invested collection of CD's with the latest, greatest new CD/DVD format."
"Reviewers below are much more eloquent than I can be. I managed to get a home trial unit and once the unit broke in(about three days) and warmed-up(about twenty minutes from cold start??) it really is outstanding. It is as detailed as the Krell units that i heard while engaging in a way that Naim can only dream of.

Vocals are simply marvelous. Remember all the old 'belcanto' opera singers that you loved on record but didn't enjoy as much on CD? NO problem with the AudioAero, Anna Moffo lives again and u wonder why such a fuss over the contemporary singers?

Haven't noticed any music that doesn't play well on the unit. On Jazz CDs I can follow the drummer around his kit, locating each drum...no kidding.

It has a tube output but don't kid yourself into thinking it's making the music sweeter than it really ought to be(typical knock on tube gear). It's so natural that it's eerie.""
THE NEW CAPITOLE
Craig Leon, the professional recording producer of many recordings in many genres, says that he has "not yet a heard a CD player that so accurately reproduces the sound of the recordings I have done. Played back on the Capitole they sound as we heard them when we were recording the masters in the studio. You have a wonderful machine." .........www.craigleon.com

Influenced by the town of Toulouse, with an alliance of a long history and high technologies, they have developed a range of hybrid products with a special ability to reproduce very natural and realistic sound, always bringing out emotion from music.
For amplification, they avoided conventional tube designs to turn towards a combined parallel triode/pentode system. After two years research, they perfected the match of these two in power and achieved the new power amplification concept called TRAC® system (Tube Relay Amplification Concept). This configuration allows an exceptionally natural musical reproduction.
In the digital domain, they are famous for the Capitole CD Player 24/192 which re-samples the CD digital signal to 24 bit / 192kHz, using their exclusive 32 bit / 192kHz S.T.A.R.S.® process developed for Audio Aéro by the Swiss company Anagram Technologies and featuring a subminiature tube output stage with a high quality IC attenuator. This unique player brings the audio CD to a new level of performance and represents the missing link between analogue and digital equipment, offering the flawless musicality of analogue
Capitole CD Player 24/192 received the "Reviewers Choice 2001" award by Soundstage!:
"If you think digital, particularly CD, sounds dry and sterile, then listen to these players. They are as smooth, sultry and sweet as the finest analog and, quite simply, two of the best CD players I've heard. In fact, CD players like this don't even have me wanting for DVD-A and SACD."
The Capitole CD player has been reviewed in many other publications also and is consistently mentioned with the best CD players in the world.
The Capitole has changed over the years with the introduction of preamplifier abilities, and the introduction of analogue inputs. It has recently been improved again with the introduction of the Capitole CD player Reference.
PRICE : FROM 6700(CLASSIC ) -7800 euro(3 LINES +VOLUME ..)
SPECIFICATIONS :
Exclusive STARS® 32bitFP/192kHz processing for a 24bit/192kHz RE-sampling, subminiature tube output stage, digital input, remote volume control and analogue inputs.
Capitole CD Player Reference has been designed with the idea to equal the SACD and DVD performance.
This is the ideal player for discerning audiophiles with a huge CD collection and not willing to go for new digital formats.
First, we selected a high-end laser mechanism from Philips for its excellent playback performance, long lifetime, low play noise and long product life cycle. Supported by a specific aluminium suspension, its excellent readability allows to retrieving a maximum of CD's data.
Then, we included the state-of-the-art in digital processing : our exclusive STARS ® process (Solution for Time Abstraction Re Sampling), a combination of very high speed 192 kHz RE-sampling (a new jitter free clock is created), 24 bit re-quantization and signal enhancement techniques (extraction of "hidden" information from 16 bit data, improvement of dynamic, precision, soundstage and details), developed for Audio Aero by Anagram Technologies SA.
The core of the system is a 32 bit SHARC DSP which, by performing hundred millions of calculations per second, rebuilds a high precision 24/192kHz signal, independent from the input clock, and keeping total dynamic range in all stages.
Then, after a 1024 times up-sampling on demand, D/A conversion is performed at 6.144MHz by a high performance 24 bit / 192 kHz DAC.
Analogue output stage features sub-miniature tubes and high precision buffer with built-in high quality volume control for a perfect match between high-tech digital treatment and musicality.
Frequency range (with internal CD player and 16/44.1kHz input): 5 Hz - 21 kHz (- 1dB)
Frequency range (with 24/96 input): 3 Hz - 48 kHz (- 1dB)
Output voltage: up to 6 V RMS Output impedance: 100 ohms
Signal to noise ratio: 127dB
Total harmonic distortion: 0,2 %
Read software: 16 bit / 44.1 kHz audio CD, CD-R, CD-RW
Power supply
115-230 VAC, 50 / 60 Hz
Power consumption: 30W
Technology
Philips CDPRO2 mechanism on an aluminum / rubber suspension
Custom S.T.A.R.S. process performing 24 bit / 192 kHz RE-sampling
Jitter control software
Burr-Brown PCM1792 24 bit / 192 kHz Digital to Analog converter
6021W subminiature tube
Volume attenuator
General
Analog outputs: single-ended RCA and balanced XLR
Analog inputs: single-ended RCA and balanced XLR
Digital output: BNC
Digital inputs: BNC, RCA, AES/EBU, AT&T, TOSLINK
Chassis: 15/10 steel
Lid: 20/10 aluminum
Weight: 32.6 lbs.Dimensions (W x L x H): 17.52 x 16.93 x 5.12 inches
NEW Prima Amplifier -Hybrid technologyfor the best of tube and solid state
100 W hybrid integrated amplifier (6021W tube preamp/DMOS amp) with remote volume control and source selection
We designed this amplifier to have the advantages of tube amplification without expensive and huge output transformers.
Therefore, we chose an hybrid concept, composed of a subminiature tube preamplifier and DMOS-FET amplifier. This special configuration allows to merge tube softness, texture and soundstage with transistor precision and power, producing fast and detailed music, bringing life in each and every instrument and voice.
Built with the same care as our top of the range products, this cost effective amplifier features remote controlled volume and includes 5 line inputs and a tape monitor.

Specifications:
Typical audio performance :
Frequency range : 7 Hz - 50 kHz (-1dB)
Output power : 100 W / 6 ohms
Rise time : 2 µs
Signal to noise ratio : 70dB
Total harmonic distortion : < 0,1 %
Power supply : 100 / 120 / 230 / 240 VAC, 50 / 60 Hz selected at factory.
Power consumption: 40W
General :
Tube : 6021W
Inputs : single-ended RCA
Outputs : gold plated binding posts
Chassis and cover : 15/10 steel
Weight (each) : 9 kg. / 19.6 lbs.
Dimensions (W x L x H): 17.13 x 12.80 x 4.02 inches
FOR MORE INFO